MeeBlip anode synthesizer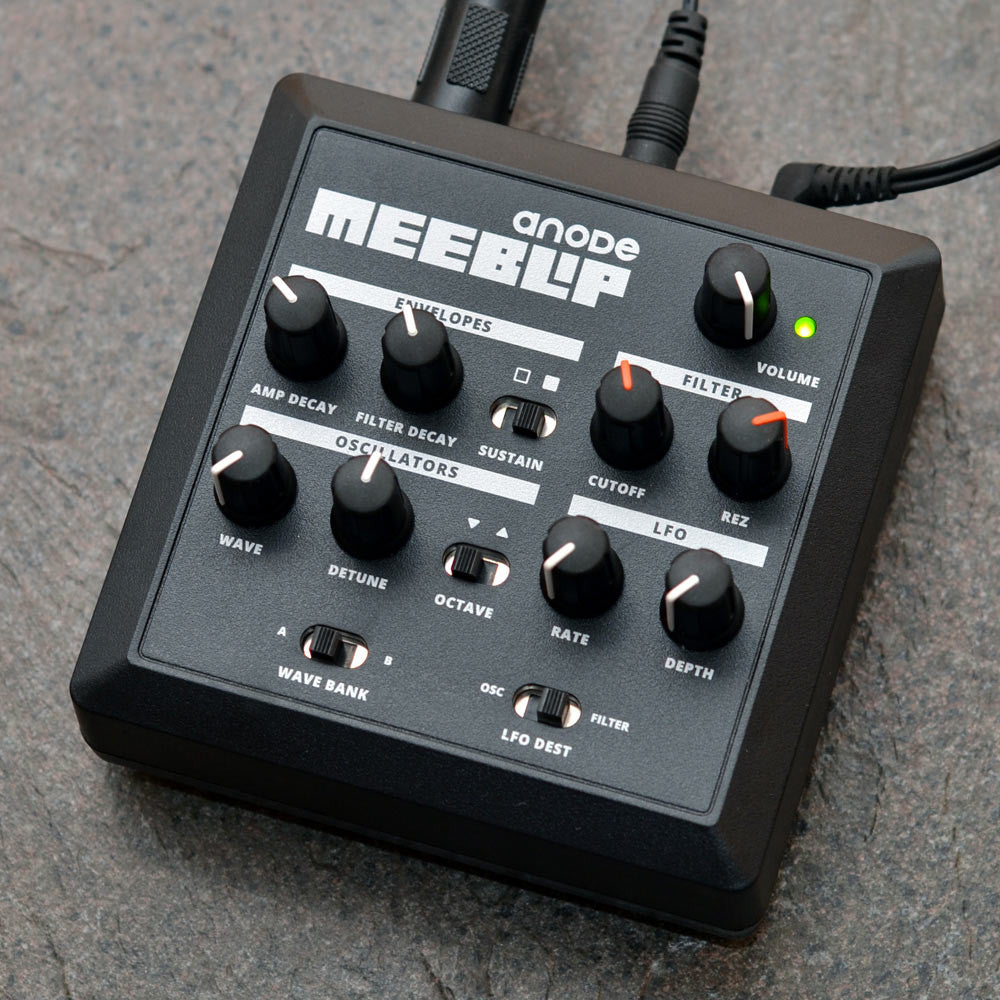 Our new Meeblip geode synthesizer is now available. It features the classic anode analog filter with more hands on control, improved oscillators and USB MIDI.
MeeBlip anode is part analog, part digital, capable of producing a range of uniquely aggressive, bass-heavy sounds.
anode now includes new Version 2.5 firmware and the updated front panel design introduced on the limited edition white version this summer. This special release offers hands-on access to 16 grungy wavetables and dual envelopes routed to oscillator amplitude and filter cutoff for powerful filter sweeps and effects.
Inspired by the best classic synths of the past, getting your hands on that sound is always simple, direct, and intuitive. Simply plug in a keyboard, computer, iPad (via adapter), or controller via the MIDI port to play notes. Then, adjust sounds via knobs and switches – you don't need to navigate a single menu.
Unique digital oscillators with an original analog filter
New Version 2.5 firmware with dual envelopes and wavetable oscillator mode
Dual bandlimited variable pulse oscillators with PWM or raw wavetables. 
Optimized for aggressive, powerful and unique bass sounds
Compact, 4" x 4" case (approx. 100 x 100 mm)
Modulation, envelope, tuning, and pulse width controls
Open source hardware, but fully-assembled and ready to play
MIDI input for compatibility with vintage and modern hardware, computers, and (with a compatible adapter) iPad and iPhone
Includes multi-volt power adapter (100-240 V, 50/60 Hz) with US/Canada plug
Only 500 hand-numbered units will be made in this edition
anode comes fully assembled and ready to use. But because it's open source hardware, users can learn from anode by looking through the code and circuits, modifying how it works, or even creating their own instruments based on the design.
We ship by USPS or Canada Post. Delivery takes from 3 days (USA) to several weeks (Europe, Australia, Asia). You will receive tracking info as soon as your shipment leaves MeeBlip HQ. 
Customers outside the USA and Canada: You may be responsible for VAT and import duty in your country.